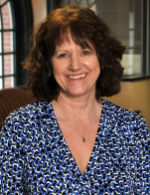 SKOWHEGAN, MAINE -
Skowhegan Savings announces that Karen Hart, community banker, will retire at the end of the month after 37 years of service to the bank.
Starting her career at Skowhegan Savings as a teller in 1982, Hart is currently the bank's longest employee seeing four bank presidency changes during her tenure. She became the bank's first marketing officer in 1989 and, in that role, the voice of the bank's advertising for 24 years.
"Karen served in many roles at the bank over the past 37 years but one consistent has been her dedication to the bank, our customers and our communities," said John Witherspoon, CEO.  
In 2014, she was promoted to branch manager of the bank's Skowhegan locations overseeing their day-to-day operations. Hart finishes her career as a community banker in the Somerset County region assisting customers with their mortgage and consumer loan needs.
"We wish her well in retirement and suspect she'll continue to play a major role in making our communities a better place to live and work," said Witherspoon.
A Farmington native, Hart has a long-standing civic commitment to the area's communities. She served on the board of Lake George Regional Park for 17 years, was on the board of Main Street Skowhegan from 2005-2012 and acted as a cabinet member for the Mid-Maine United Way for two years. Currently, Hart has been on the Skowhegan Run of the River Committee since 2000, is chair of the Western Mountains Committee of the Maine Community Foundation and is a member of the Skowhegan Rotary where she was awarded the Paul Harris Fellowship award in 2008 for her commitment to the rotary organization.
Hart now resides in Smithfield with her husband, Steve, enjoying just about anything that the great outdoors of Maine has to offer and time spent with her two grown children, Andrew and Alexandra who live in Portland, Maine and Brooklyn, New York respectively.