FOR IMMEDIATE RELEASE

PITTSFIELD, MAINE - Maine Central Institute (MCI) Headmaster Christopher J. Hopkins announced the School has received a $10,000 grant from the Skowhegan Savings Charitable Foundation for MCI's $6.5 million Founders Campaign at a check presentation with Bank officials on the Pittsfield campus.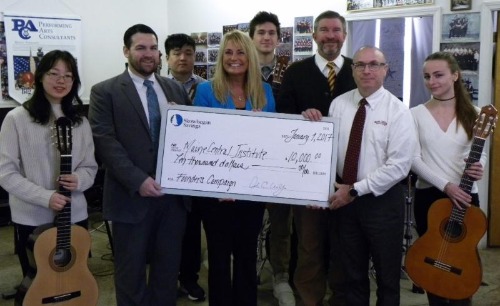 Pictured: MCI guitar students; Bruce Harrington, Skowhegan Savings, Assistant Vice President and Commercial Loan Officer; Renee Hawthorne, Skowhegan Savings Branch Manager, Fairfield & Pittsfield Branches; Christopher J. Hopkins, MCI Headmaster; Dean Neal, MCI Visual and Performing Arts Department Chair.
"We are grateful for the generous support of the Skowhegan Savings Charitable Foundation," Hopkins said in accepting the check, "and are honored to have earned their support for the Founders Campaign, which will strengthen MCI for the next 150 years."
MCI celebrated its 150th year in 2016. The Founders Campaign is the largest fundraising effort in MCI's history, and is also the School's first comprehensive campaign.
"MCI is unique. We are pleased to support this independent school offering a
comprehensive educational program to a multicultural student body,"
said Renee Hawthorne, branch manager of the Skowhegan Savings Pittsfield branch. "Our contribution is a team effort with the community to ensure that educational diversity is still available to the region for another 150 years," Hawthorne added.
The Campaign supports four distinct areas - academics, the arts, athletics and endowment. Funds will support major renovations in Founders Hall, the original building on MCI's campus, and the repurposing of the 58-year old J. R. Cianchette building to create a Visual and Performing Arts Education Center. Campaign contributions have already been expended to construct three new multipurpose athletic fields on campus. The fourth area of the comprehensive Campaign will increase the School's $6.5 million endowment by $2 million.
The Campaign was launched at MCI's Reunion on August 5th, with the announcement of the Schools first $1 million pledge, and a major challenge gift. To date, 132 donors have contributed $4.36 million to the Founders Campaign. Gifts from individual donors are being matched dollar-for-dollar as part of the $500,000 Koester Family Challenge. Gifts totaling $279,506 have been matched thus far. Officials hope to reach the Campaign goal by August 4, 2017.
About Skowhegan Savings Charitable Foundation
Skowhegan Savings' charitable giving program makes donations to both large and small local non-profit and charitable organizations, with a focus on financial literacy programs and Economic and Community Development, including programs that promote job creation, business retention, business growth, and community enhancement. To apply for funding, visit:
Skowhegan Savings Charitable Foundation
.
About MCI
MCI (
mci-school.org
) is the secondary school for the towns of Pittsfield, Burnham and Detroit. The school also educates boarding students from more than 14 countries and day students from numerous other Maine communities. MCI offers accelerated and advanced placement courses in all subjects as well as 18 sports teams and 30 campus organizations. The school is known for its award-winning arts programs, including vocal, band, orchestra, and the world-class Bossov Ballet Theatre, a performing company and international pre-professional ballet school with instruction from former and current members of the Moscow Ballet. Bossov Ballet is celebrating its 20th anniversary this year. The school's sports programming is also strong. During the 2016-2017 school year, its football team won the Class D State Championship, and MCI's field hockey team defended its Class C North Regional Championship.