FOR IMMEDIATE RELEASE

JACKMAN, MAINE - Penobscot Community Health Care (PCHC) is pleased to announce that the

Skowhegan Savings Bank Charitable Foundation recently awarded PCHC a $25,000 grant to support 

renovations to the Jackman Community Health Center facility at 376 Main Street, Jackman.The 

funding will support overall building upgrades, including utility and energy efficiency improvements.

"We are grateful for the support of the Skowhegan Savings Bank Charitable Foundation as we continue work to improve the Jackman Community Health Center facility and sustain the quality services provided for the Jackman community," states, Lori Londis Dwyer, Esq., PCHC President and
CEO. "We further appreciate that the foundation recognizes the critical importance of access to care for rural Maine."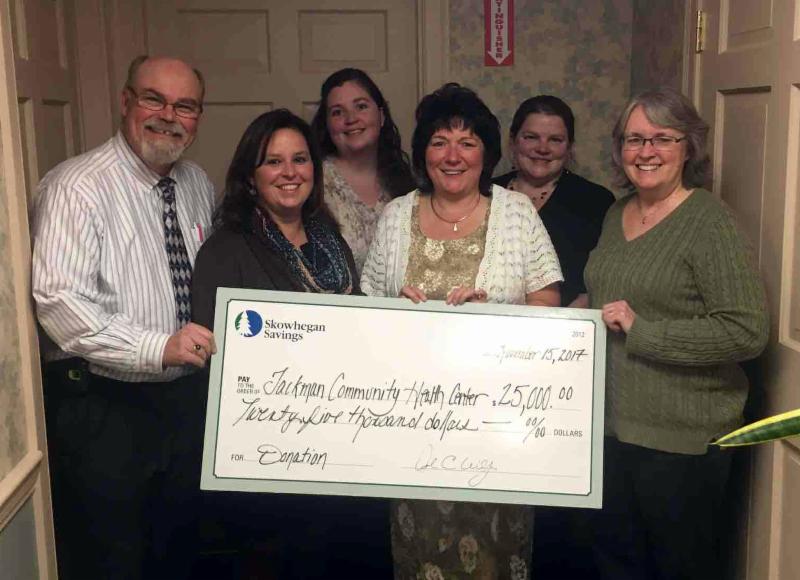 From L to R: Jack Ducharme, Jackman Branch Manager; Roxanne Vining, Teller; Lauren Corey, Teller; Betsy Begin, Jackman Branch Supervisor; Samantha Lemaire, Teller; and Dr. Patricia Doyle, Jackman Community Health Center.


"We recognize the important role the Jackman Community Health Center has in providing access to medical services for area residents," said John Witherspoon, president of Skowhegan Savings. "We are pleased to help support the continuation of care by PCHC for the communities in the region."

Staffed by providers Patricia Doyle, MD, Anna Babiarz, PA-C, Wendy Pavnick, PA-C, and Andrea Groft, PA-C, Jackman Community Health Center is open 8am-5pm Monday-Friday and offers on-call acute care. For an appointment or to access acute care after hours, please call 668-7755. The practice provides health care for over 1,000 patients with almost 4,000 patient visits each year and is the only primary care provider within 50 miles. The center offers family medicine, dental hygiene, pharmacy services, x-ray, acute care, mental health, and substance abuse services. The practice joined PCHC in February 2014.
About Penobscot Community Health Care

Penobscot Community Health Care (PCHC) is a non-profit, Federally Qualified Health Center (FQHC) founded in 1997 to ensure access to comprehensive, integrated primary health care services for all to improve the health and wellbeing of patients and the Maine communities served. Sixteen practices and program service sites in the Bangor area, and in Belfast and Jackman, offer a wide range of services including family medicine, dental, pediatrics, geriatrics, mental health and substance abuse, specialty services, pharmacy and healthcare for the homeless. Staffed by more than 750 employees, PCHC serves about 65,000 patients annually. PCHC is accredited by the Accreditation Association for Ambulatory Healthcare (AAAHC) and has received regional and national recognition as a leader among the nation's Community Health Centers. Its practices have earned certifications from the National Committee on Quality Assurance (NCQA) for Patient-Centered Medical Home.
About Skowhegan Savings Bank Foundation

Skowhegan Savings is a caring, committed member of the communities where our customers live, work, and raise their families. To strengthen and enhance these communities, we support charitable giving, sponsorships and employee volunteer efforts. Skowhegan Saving' charitable giving program makes donations to both large and small local non-profit and charity organizations
with a focus on financial literacy programs and Economic and Community Development, including programs that promote job creation, business retention, business growth, and community enhancement. To apply for funding, visit
Skowhegan Savings Charitable Foundation
.   

Media Contacts
PCHC
Kate Thomas
Assoc. Director of Executive Services
103 Maine Avenue, Bangor
207.992.9200 ext. 1412
kthomas@pchc.com

Skowhegan Savings
Marketing Director/Officer