SKOWHEGAN, MAINE
   Skowhegan Savings Bank is pleased to announce the recipients of the 2017 Skowhegan Savings College Scholarship awards.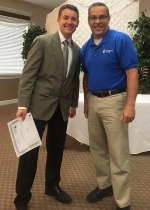 Ross Young, Cony High School. Young challenged himself in the classroom taking numerous honors and advanced placement classes earning him the Magna Cum Laude Scholarship, Merit Scholarship and the President's award for academic excellence. He also participated in many extracurricular activities that including chorus, baseball, basketball, soccer, French club and the high school newspaper. Young plans on pursing a bachelor's degree in business administration and small business entrepreneurship at Thomas College.
Ryan Pellerin, Lawrence High School. Ranked 10th in his class, Pellerin excelled both in and out of the classroom. While enrolled in advanced placement classes, he was named All Academic in both basketball and football by the Kennebec Valley Athletic Conference while also involved in the P.R.I.D.E. club, served as treasurer of the National Honor Society and was on the track team. Outside of school, Pellerin is a Boy Scout and has earned the rank of Eagle Scout. He plans to attend Springfield College where he'll work towards a degree in sports management.

Kerri Abbot, Madison Area High School. Abbot is ranked 4th in her class. She took honors classes, was a member of the National Honor Society and had perfect attendance. She was a varsity cheerleader achieving the highest academic average on her competition cheering team in 2015. She plans on attending Thomas College to pursue a degree in marketing and communications.
Carter Pearl, Maine Central Institute. Ranked 4th out of his class, Pearl was the recipients of the MCI Partridge Fellowship, the Saint Michaels College Book Award, and the AP Language Top Student Award. Active in many school extracurricular activities as he was the captain of the varsity basketball team, served as student council president and was the founder of the MCI Philanthropy Council. Pearl plans to attend Stonehill College in his pursuit to become a financial advisor.
Abigayle Brackley, Mt. Abram High School. Brackley, an honors student, made honor roll throughout her high school career. She served as secretary of the National Honor Society and as a student school board representative for MSAD 58. Brackley plans on attending University of New England and obtaining a degree in nursing.
Patricia Lessard, Forest Hills High School. Lessard is ranked 2nd in her class maintaining high honors throughout her high school career. She played basketball and softball, was on the math speech and debate teams and served as both president and treasurer of the student council. Lessard plans on attending Thomas College where she was accepted into the accelerated track program at Thomas and aims to earn her degree in business management in three years. 
Richard Thompson, Rangeley Lakes Region School. Thompson plans on attending Central Maine Community College to obtain a degree in criminal justice. During his high school career, he was awarded the Clayton Philbrick Award for both soccer and basketball. He also earned the MVP Laker award in both sports his senior year. As a freshman and sophomore, Thompson served as vice president of his class and was involved with Big Brothers Big Sisters.
Wyatt Carey, Skowhegan High School. Ranked 6th in his class, Carey has received high honors throughout high school while enrolled in advanced placement and honors courses. As a member of the speech team, he claimed the 2017 state championship title. He also won the Lion's Club 'Speak Out' contest at the club level taking 3rd place at the district competition. An accomplished musician, Carey has been a member of the Colby College symphony orchestra for the past two years. He plans to attend Vassar to obtain is bachelor's in environmental engineering.
The Skowhegan Savings Scholarship Program awards scholarships annually to graduating seniors pursuing a business degree or a degree in a related program. One applicant is selected to receive a $1,000 scholarship from each of the 11 high schools that serve the municipalities in which the bank has branch locations. Not all high schools participated this year.
About Skowhegan Savings
Skowhegan Savings Bank has been dedicated to strengthening Maine's families, businesses and communities by providing personalized and competitive banking services to the regions of which they serve for over a 140 years. An independent mutual savings bank based in Skowhegan, with 15 branches throughout the state, their mission is to provide customers with exceptional service in an innovative banking environment that effectively and efficiently puts the financial needs of the customer first. Named one of Maine's Best Places to Work for the past seven years, they take pride in not only being a great place to bank but also a great place to work. For more information on Skowhegan Savings in the community or how they can assist you with your financial needs, please visit skowhegansavings.com or contact their live Customer Service line at 800.303.9511.
Media Contact
Fawn R. Wentworth
Marketing Officer

Skowhegan Savings

207.858.2588