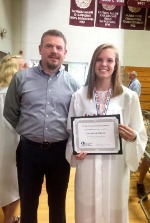 SKOWHEGAN, MAINE
   Skowhegan Savings Bank is pleased to announce the recipients of the 2016
Skowhegan Savings College Scholarship awards.
Fatima Aleem, Cony High School.

Ranked 5th out of a graduating class of 155, she plans on attending the University of Maine of Augusta to pursue a bachelor's degree in business administration. Aleem is a member of the National Honor Society and has received numerous academic honors. She participated in art club, tennis club and math team.
Jaina Boyd, Dexter Regional High School. Boyd plans on attending the University of Maine at Presque Isle to earn a degree in business management. Ranked 9th in her class, she was involved in her high school's key club and tennis team as well as volunteered at Kenduskeag Union Church outside of school.
Kelsey Dubay, Lawrence High School.

Dubay plans to pursue a degree in financial analysis and accounting at Thomas College on an accelerated tack program. Taking mainly AP courses she also found time to be a varsity cheerleader, a Dirigo State Representative, member of French and history clubs. Outside of school she volunteers at the Waterville Humane Society. Dubay is ranked 11th in her class.
Emma Dimock, Madison Area High School.

Dimock plans on attending Thomas College in the fall to pursue a degree in marketing. She is ranked 5th in her class. Along with taking honors and AP level classes, Dimock also participated in the digital graphic arts program at Somerset Career and Technical Center.
Katherine Welch, Maine Central Institute.

Welch plans on pursuing a degree in management at Thomas College. She has hopes to finish her bachelor's degree in three years to continue on to obtain her MBA in Thomas College's accelerated program. She was involved in concert and jazz band. Welch also played field hockey, receiving the KVAC all academic award, and was on the student leadership committee.
Courtland Talmage, Mt. Abram High School.

Ranked 1st in his class, Talmage plans on attending Bowdoin College to obtain a degree in economics. He was a designated AP Scholar in 2015, played on the varsity soccer team, a member of nordic ski team, a class officer and was selected as student of the month in December 2015.
Autumn Clair, Mt. Blue High School.

Clair plans on attending Iowa Lakes Community College to obtain her associates in applied science in agribusiness. She made honor roll throughout her high school career and received the Principal's Award in 2016. She is also a member of the National Honor Society and served as the student representative on the RSU 9 school board.
Lilyan Ray, Rangeley Lakes Regional School.

Ranked 1st in her class, Ray plans on attending the University of Maine at Farmington to obtain a degree in psychology. She took both honors and AP courses in high school, was involved in math club, yearbook and served as senior class vice president.
Madeline Price, Skowhegan Area High School.

Price plans on attending Fairleigh Dickinson University to earn a degree in hospitality management. She was active in track and field, band, cheering and was a member of the school's Rotary Club throughout high school.
The Skowhegan Savings Scholarship Program awards scholarships annually to graduating seniors pursuing a business degree or a degree in a related program. One applicant is selected to receive a $1,000 scholarship from each of the 11 high schools that serve the municipalities in which the bank has branch locations. Nine high schools participated this year.
Skowhegan Savings Bank has been dedicated to strengthening Maine's families, businesses and communities by providing personalized and competitive banking services to the regions of which they serve for over a 140 years. An independent mutual savings bank based in Skowhegan, with 15 branches throughout the state, their mission is to provide customers with exceptional service in an innovative banking environment that effectively and efficiently puts the financial needs of the customer first. Named one of Maine's Best Places to Work for the past seven years, they take pride in not only being a great place to bank but also a great place to work. For more information on Skowhegan Savings in the community or how they can assist you with your financial needs, please visit skowhegansavings.com or contact their live Customer Service line at 800.303.9511.
Media Contact
Fawn R. Wentworth
Marketing Officer

Skowhegan Savings

207.858.2588