FOR IMMEDIATE RELEASE

AUGUSTA, ME - Skowhegan's Savings presented a check for $30,000 toward the restoration and expansion of the Colonial Theatre.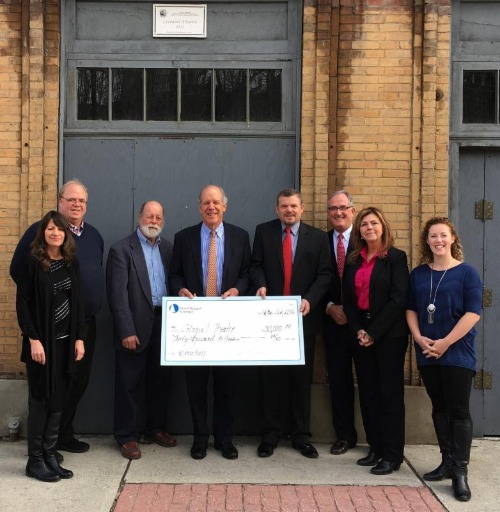 "Skowhegan Savings is pleased to support the restoration and expansion of the Colonial Theatre," said, Dan Tilton, senior vice president of customer relations for the bank. "When completed, we feel that the theatre will be a great asset to the community of Greater Augusta and we're proud to be able to be a part of that."


"We are very grateful for this gift from Skowhegan Savings and for their commitment to bringing this beautiful theater back to life," said Richard Parkhurst, co-chair of the capital campaign to restore the Colonial. "It is truly a gift to the community," continued Parkhurst.


The theater holds a special place in the hearts of those who knew it in its heyday. Bill Williamson's grandfather built and operated the Colonial beginning in 1912. Today, Mr. Williamson is co-chairing the campaign in his grandfather's honor.


"For over fifty years, the Colonial was an important gathering place for the Augusta community. This campaign reimagines the Colonial with a plan that will culturally enrich and drive economic growth for the region. We are very appreciative for Skowhegan Savings Bank's support and recognition of the importance of the campaign," stated Williamson.


Once opened, the Colonial Theatre will serve as a cultural venue for film, live performances, digital programming, space for community groups and corporate meetings, and for numerous other charitable events and educational purposes.


About Colonial Theatre 
Colonial Theatre, Inc.'s mission is to restore and operate the historic Colonial Theatre, located in downtown Augusta, Maine, for the artistic, educational, and charitable benefit of its community, which includes the city of Augusta, surrounding towns, and the entire Kennebec Valley region.
About Skowhegan Savings Charitable Foundation
Skowhegan Savings' charitable giving program makes donations to both large and small local nonprofit and charitable organizations, with a focus on financial literacy programs and economic and community development, including programs that promote job creation, business retention, business growth, and community enhancement. To apply for funding, visit Skowhegan Savings Charitable Foundation.