FOR IMMEDIATE RELEASE

SKOWHEGAN, ME
- Skowhegan Savings Charitable Foundation donates $25,000 to Lake George Regional Park in celebration of the park's 25
th
Anniversary. The recent donation is a continuation of the bank's ongoing historical financial support of the park's mission to maintain year-round access to its lake and trail systems.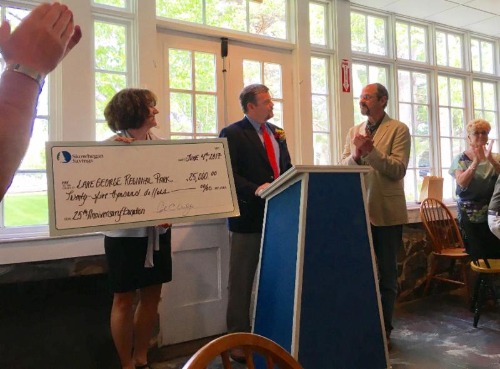 (L to R) Karen Hart, Skowhegan Branch Manager, and Dan Tilton, SVP of Retail Sales & Customer Service, from Skowhegan Savings present Steve Dionne, President of the Lake George Corporation, with a $25,000 donation check from the bank's charitable foundation during the Lake George Regional Park  25th Anniversary Dinner last weekend. Other speakers included: Dr. Melik Khoury, President of Unity College; Tom Desjardin, Director of Maine Bureau Parks and Lands; and Sarah Demers, Director of the Land for Maine's Future Program.
"Lake George Regional Park thanks Skowhegan Savings Bank for their past support and most recent contribution in recognition of our 25th Anniversary. We appreciate their generosity and commitment to assist us in providing recreational, educational and social opportunities for the park's visitors," said Steve Dionne, president of the Lake George Corporation who maintains the park. "This contribution will help us plan for future policy and program development to fulfill our organizations mission."
"We're pleased to continue supporting one of Maine's natural resources that is such a great asset to our area," said Dan Tilton, senior vice president of retail sales and customer experience for Skowhegan Savings. "All of our employees, their families and the surrounding communities greatly enjoy all that the park has to offer. We'd like to see that continue and grow over the next 25 years!"
Lake George Regional Park is a 320 acre park that bridges Skowhegan and Canaan hosting an average of 26,000 visitors a year. The park has been the site of the annual Somerset Sports & Fitness Sprint Triathlon for the past five years. The annual fall triathlon consists of a quarter mile swim, 14.5 mile bike ride and 3.8 mile run. Visitors also enjoy day camps during the summer, local classrooms use for hands-on learning exercises during the school year while families and local companies utilize the park for outings year round. Not receiving state funding, the park relies on fundraising and community support to operate.
About Skowhegan Savings Charitable Foundation
Skowhegan Savings' charitable giving program makes donations to both large and small local nonprofit and charitable organizations, with a focus on financial literacy programs and economic and community development, including programs that promote job creation, business retention, business growth, and community enhancement. To apply for funding, visit Skowhegan Savings Charitable Foundation.