FOR IMMEDIATE RELEASE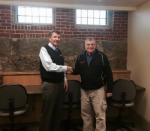 SKOWHEGAN, MAINE   Skowhegan Savings Bank's Charitable Foundation has announced to make matching grants in the amount of $50,000 towards the construction of the elevator addition on the west side of the Skowhegan Free Public Library. These grants bring Skowhegan Savings Bank's Charitable Foundation total contributions to the library's renovation project, a project started in 2007, to $150,000. The elevator's construction represents the final phase in the repair, restoration and renovation of the 1889 library building.
"We are very excited to help bring this project across the finish line," remarked John Witherspoon, president of Skowhegan Savings Bank. "The Library is a cornerstone of our community and this project will assure it's vibrancy for years to come."            

"The Trustees of the library and I wish to thank John and Skowhegan Savings for their immeasurable help in funding the health and safety renovations of the library," said Dale Jandreau, director of the Skowhegan Free Public Library. "Without the caring and compassion for their community from companies like them, we would never complete the renovations."
The library's renovation of the 9 Elm Street building has been extensive over the past eight years. 2,500 square feet of unused space in the basement was developed into usable space for patrons and community. A new HVAC and sprinkler system have been installed. Repairs to the roof, façade, windows and chimney were made. New utility lines were put in throughout the building and a second stairway with means of egress was added to the north side of the building. Funds for this work have come from Skowhegan Savings Bank's initial pledge, foundation grants, fundraising events and generous donations from local businesses and individuals,
The construction of the elevator addition is an essential component of the library's accessibility. With the completion of this final phase of the renovation project, handicapped individuals and older adults will be ensured access to all library facilities and events. Fundraising is now in progress to match the first challenge with construction planned to begin this spring. The second $25,000 challenge grant will be presented after the project is underway.
ABOUT SKOWHEGAN FREE PUBLIC LIBRARY
The mission of the Skowhegan Free Public Library is to serve as a lifelong center of learning for residents of all ages from Skowhegan and surrounding communities by providing free and equal access to its facilities and programs.
ABOUT SKOWHEGAN SAVINGS' CHARITABLE FOUNDATION
Skowhegan Savings' Charitable Foundation makes donations to both large and small local non-profit charitable organizations with a focus on financial literacy, economic and community development initiatives that promote job creation, business retention, business growth, and community enhancement.
Media Contacts
Dale Jandreau

Director

Skowhegan Free Public Library

207.

Fawn R. Wentworth
Marketing Officer

Skowhegan Savings

207.858.2588
About Skowhegan Savings
Skowhegan Savings Bank has been dedicated to strengthening Maine's families, businesses and communities by providing personalized and competitive banking services to the regions of which they serve for over a 140 years. An independent mutual savings bank based in Skowhegan, with 15 branches throughout the state, their mission is to provide customers with exceptional service in an innovative banking environment that effectively and efficiently puts the financial needs of the customer first. Named one of Maine's Best Places to Work for the past seven years, they take pride in not only being a great place to bank but also a great place to work. For more information on Skowhegan Savings in the community or how they can assist you with your financial needs, please visit SkowheganSavings.com or contact their live Customer Service line at 800.303.9511.