FOR IMMEDIATE RELEASE

Grant will support student built replacement home for a family in need
EAST WILTON, MAINE   Skowhegan Savings Bank presents Western Maine Community Action, Inc. (WMCA) with a $2,500 grant in support their Community Home Replacement Program. WMCA, who provides assistance to low and mid income families living in the western mountain region of Maine, created the pilot program to construct replacement homes for those in need by working with vocational students from the Foster Career and Technical Educational Center located on the Mt.Blue High School Campus. 
"This is a win-win-win for everyone," said
Bill Crandall, WMCA housing program manager. "
Our young students receive hands on training in the newest energy conservation building science setting them up for successful skills in their career path. Our elderly, who are on fixed incomes, living in unsafe homes that are costly to heat are being replaced with energy efficient and age friendly homes through the program. The general community also wins with increased property values in their neighborhoods."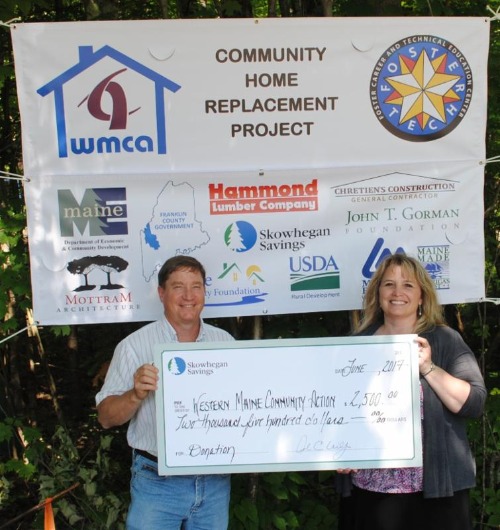 Shelly Lowell, Skowhegan Savings Farmington Branch Manager, presents Bill Crandall, WCAP Housing Program Manager with a $2,500 grant for the organization's housing replacement pilot program.   
"It's great to see students be able to not only have an opportunity to get involved in making an impact in the community but also gain viable hands on career skills in the process," said Shelly Lowell, Farmington branch manager.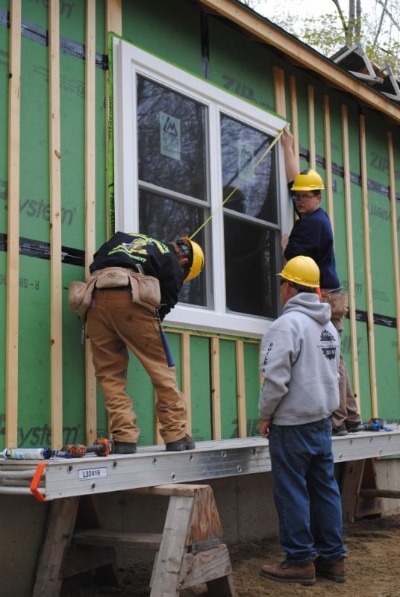 Foster Career and Technical Education Center students install a window in the Chesterville WMCA replacement home.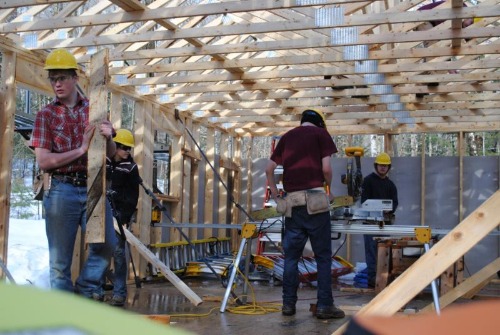 Students work on completing the framing as part of WMCA's replacement home pilot project in Franklin County.

The pilot project is currently constructing a dwelling in Chesterville. The home is being built to Maine uniform building and energy codes (MUBEC) providing an experiential learning opportunity for the vocational students involved in the project while producing a workforce trained in modern and high efficiency construction techniques.
About Western Maine Community Action, Inc.
It is Western Maine Community Action's mission to advocate for, strengthen, and coordinate all resources - private, local, state, and federal - that will assist us in promoting the self-sufficiency of people. A belief in basic human dignity and the exercise of free choice motivates the agency to approach this goal in two ways: by providing services to alleviate the conditions of economic uncertainty and by advocating for changes to eliminate the causes of poverty. For more information, visit wmca.org.



About Skowhegan Savings Charitable Foundation

Skowhegan Savings' charitable giving program makes donations to both large and small local nonprofit and charitable organizations, with a focus on financial literacy programs and economic and community development, including programs that promote job creation, business retention, business growth, and community enhancement. To apply for funding, visit

Skowhegan Savings Charitable Foundation

.   
Media Contact
Fawn R. Wentworth
Marketing Officer
207.858.2588