SKOWHEGAN, MAINE
 -
Skowhegan Savings celebrated the holiday season with their second annual "Season of Giving'' by donating $20,000 to 20 local nonprofits. Started in 2021, the bank's employees annually select 20 nonprofits in their communities, by branch and departments, to give $1,000 grants to as part of the program. Grant winners are announced on the bank's social media over the course of 20 days, beginning on Giving Tuesday and ending by Christmas day.
"The bank and our employees take great pride in being a part of our communities and our second annual Season of Giving gives us just another way to show our appreciation to these communities, that support us year-round, by spreading a little extra holiday cheer at the end of each year," said David Cyr, president and CEO of Skowhegan Savings.
"
Our employees really enjoy having the opportunity to select the nonprofits, i
t's always fun to see the diversity of organizations that they select and to witness the nonprofit's appreciation when they surprise them with these grants.
I'm proud to be part of an organization whose employees are so passionate about giving back to their communities."
This year's Season of Giving recipients included local food pantries, humane societies and other community initiatives, including Big Brothers Big Sisters of Mid Maine.
"We are so grateful for the bank's continued support of Big Brothers Big Sisters of Mid Maine," said Mae Slevinsky, interim executive director of Big Brothers Big Sisters of Mid Maine. "Skowhegan Savings' generosity positively impacts programs that connect local youth with positive role models who can ignite their greatest potential."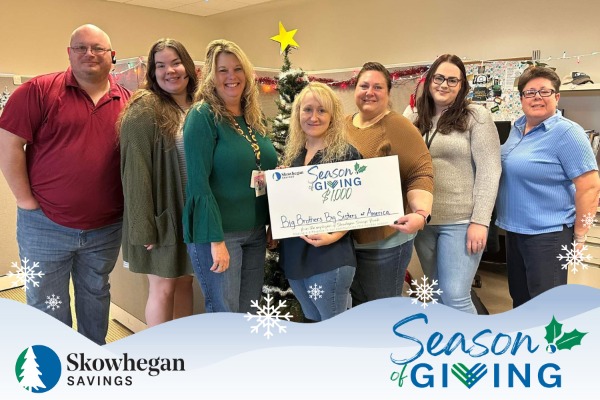 Employees of the bank's call center choose to recognize Big Brothers Big Sisters of Mid Maine
with their Season of Giving grant.
On the bank's fifth day of Season of Giving, the employees of the accounting and facilities departments selected the Humane Society of Waterville as their 2022 grant recipient.
"Thank you so much Skowhegan Savings for bringing us this generous check, we are so honored that you thought of electing our animals for this donation," stated the humane society in a social post.
Jonathan Burrows, the bank's facilities manager, stops by the Humane Society of Waterville to surprise them
with a $1,000 Season of Giving grant on behalf of the bank's accounting and facilities departments.
The humane society has been serving the greater Waterville area as a safe haven for animals in need since 1970, currently caring for about 1,800–2,000 animals each year with an average 97% placement rate. 
Other nonprofits, that received Season of Giving grants this year, included:
Augusta Food Bank

Baker Mountain Tow Ski Club

Big Brothers Big Sisters of Mid Maine

Dexter Age Friendly Gatherings

Franklin County Animal Shelter

Jackman Moose River Fire Department

Jayden's Warrior Pack Charity

Madison Junior High Food Pantry

RSU #9 Food Pantry

Maine Children's Home for Little Wanderers

Maine Needs

Mid Maine Homeless Shelter

Norridgewock Housing Authority

Rangeley Rises

Skowhegan Community Food Cupboard

Somerset Humane Society

Sweet Dreams Project

The Pixel Fund

Waterville Humane Society

Western Maine Center for Children

 
"Rangeley is such a tight knit community, we're always there for one another in times of need," said Ashley Quimby, Rangeley branch manager. "Our team always gets excited to participate in the bank's Season of Giving program each year, as it's another opportunity for us to give back to our community during the holiday season."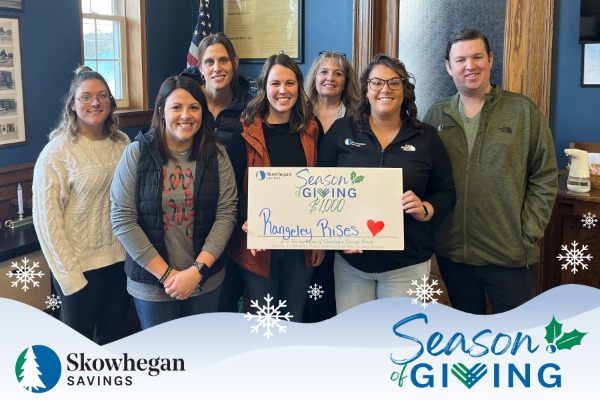 This year, the bank's Rangeley branch selected Rangeley Rises for their Season of Giving grant. Born out of the pandemic in 2020, Rangeley Rises is a community initiative that supports each other in a time of need from their Friends Helping Friends program, that provides meals and delivery to residents, to working with local businesses to keep community members and summer guests safe.
In 2022, the bank donated over $350,000 to local nonprofits and community initiatives. For more information about the Skowhegan Savings' Charitable Foundation or the Season of Giving program, please visit skowhegan.com.